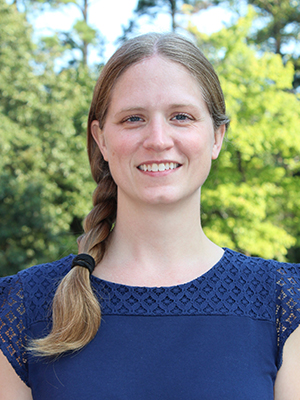 Emily is a doctor of Audiology. She performs diagnostic audiology (hearing and balance testing), programs and fits hearing aids, cochlear implants, and other otologic implants (such as Earlens and Esteem).
Dr. Ellis became an audiologist because it combines her interests in music, sound, and science. She obtained a B.S. in music technology from UNC Asheville and an AuD (doctorate of audiology) from UNC Chapel Hill. After graduation she worked at the VA hospital in Seattle, WA and was also a cochlear implant research audiologist at the University of Washington. Emily remains committed to staying current on research and technology and earned an Award for Continuing Education from the American Speech-Language Hearing Association (ASHA) in 2018.
Emily enjoys guiding patients through their aural rehabilitation process. She prides herself on working for a practice that provides different rehabilitation options — from hearing aids to implantable hearing devices — while remaining a locally owned and operated clinic.
Outside of work and aside from music, Emily finds different ways to do things outdoors with her family, whether it be hiking, camping, or some other adventure.