Choosing a hearing professional is one of the most important decisions a hearing impaired person can make. Since a hearing aid cannot be prescribed like eye glasses, proper hearing aid recommendation and fitting is highly dependent on the judgment and skill of the professional selecting the instrument. Our hearing care professionals will test your hearing and select and dispense the hearing instrument to best meet your needs. Once the hearing aids are dispensed, you can rely on continued support and professional care.
There are many Hearing Aid manufacturers that produce a wide variety of products. We work with many of them, including the following:
Levels of Technology
We offer 4 different levels of technology in all different styles of hearing aids. Hearing aids become more sophisticated at higher levels of technology and are better able to cut out background noise and provide a clearer Signal-to-Noise ratio in difficult listening situations. Your lifestyle and amount and type of hearing loss can help determine which level of technology is right for you.
Active – An active individual is in many different settings on any given day. You may be in a business meeting in the morning, an airplane in the afternoon, and at a noisy restaurant at night. The active level technology provides the most help in any situation.
Casual – A casual lifestyle still includes moderately difficult listening situations, including dinner with friends, small family groups, and small work environments.
Quiet – This lifestyle would include limited exposure to noisy environments, occasional television use, and mostly one-on-one conversations.
Very Quiet – A very quiet lifestyle would consistent of mostly one-on-one conversations in quiet environments, such as a home.
TYPES OF HEARING AIDS
Hearing aids come in five main sizes and styles.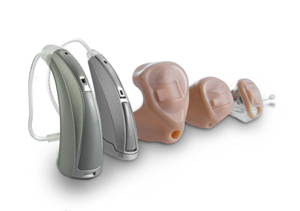 BTE: Behind-the-ear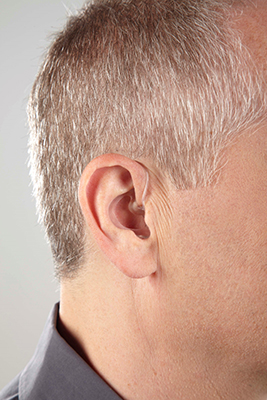 BTE hearing aids are typically the most flexible devices and fit nearly all types of hearing loss. Earmolds can be made in all sorts of shapes and materials to fit your particular ear anatomy. This is the type of hearing aid that the younger population wears; new earmolds will be made periodically to fit on the hearing aid to compensate for a growing ear. BTE hearing aids can be made with directional microphones and may include a volume control and program button.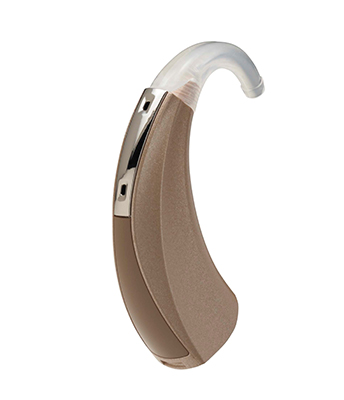 Mini-BTEs and Receiver-in-the-Ear:
These are smaller BTE hearing aids that are appropriate for mild to moderate high-frequency hearing losses. Depending on the size of the hearing aid, they may utilize directional microphones and a program button. Some models have a piece of the hearing aid circuitry, the receiver, in the ear which typically gives a little high-frequency boost in sound.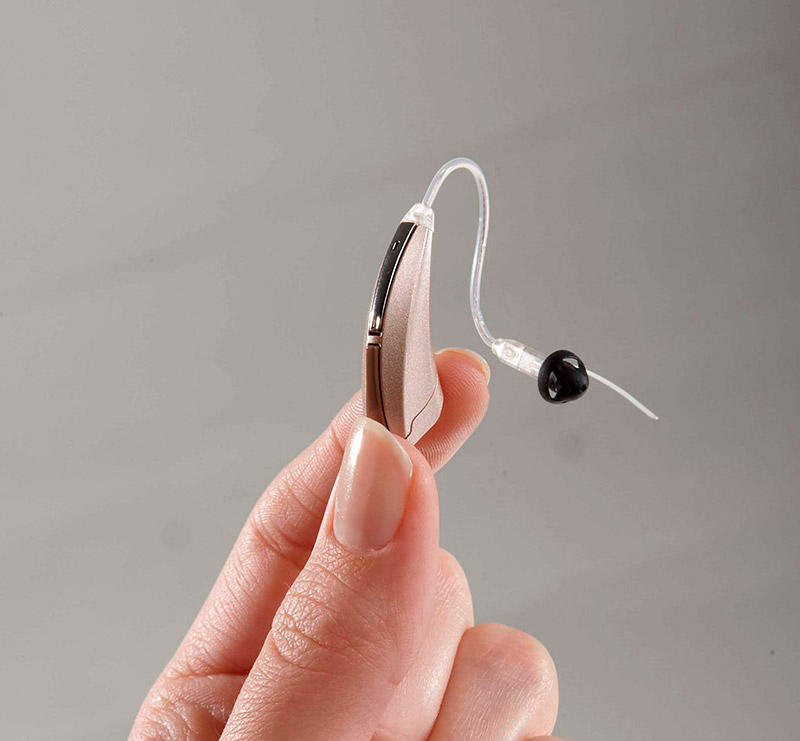 ITE: In-the-Ear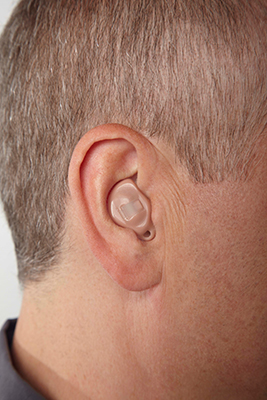 ITE hearing aids are typically the easiest type of hearing aids to handle. They offer a very secure fit and fill up the concha portion of the ear. These types of hearing aids can be made with directional microphones and may house a volume control and/or program button.
ITC: In-the-Canal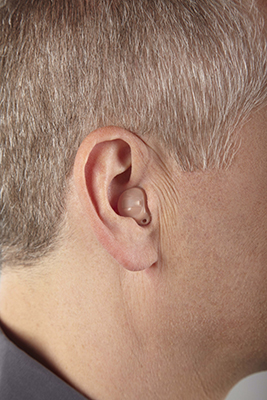 ITC hearing aids fit into the ear canal and fill up a portion of the concha. These may also be made with directional microphones, a volume control, or a program button.
CIC: Completely-in-the-canal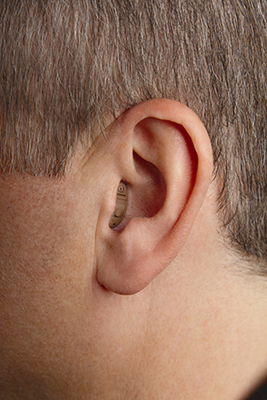 CIC hearing aids fit deeply into the ear canal and are typically appropriate for mild to moderate hearing losses. Directional microphone technology is not available in this size, however depending on the size of your ear a program button may be an option.
All hearing aids, from the basic amplifiers to the most complex technology, utilize digital signal processing. This allows for better feedback (whistling) control and better noise reduction capabilities. While hearing aids cannnot and do not restore normal hearing, users can expect improved hearing, a comfortable fit, and an appropriately prescribed hearing aid for individual hearing losses.
THE HEARING AID PROCESS
The first step to improved hearing is an evaluation and consultation on your specific hearing needs and lifestyle. Hearing aids come in a variety of shapes and sizes as well as different technology levels. Some hearing aids will be made to break down a number of incoming sounds at a very high rate producing a precise, clear signal to the user. This results in clearer understanding of speech, even in the presence of background noise. Some hearing aids are very basic amplifiers and do not draw out speech from competing environmental noises as well as other types. This is why it is important to focus on your personal lifestyle and communication needs in order to use the best hearing aid for you. A type of hearing aid that works for one person might not produce the same result in the next.
After your hearing evaluation, consultation, earmold impressions, you will go through a hearing aid fitting and orientation. The hearing aid is programmed and measured in our office to make sure that how the aid functions is consistent with a prescription based on your hearing loss, age range, and hearing aid experience. This procedure should always be performed while the hearing aid is in your ear as your ear anatomy and the fit of the hearing aid will change the acoustic properties. You will also be counseled on hearing aid use and care as well as expectations. Ear Consultants of Georgia offers a 30-day trial period with hearing devices as we want to be sure that the type you try produces exceptional, measurable results. During these initial 30 days of use, patients typically have a fitting and a few follow-up appointments. Once you become an experienced hearing aid user, you should expect at least an annual visit. Some patients may even benefit from an aural rehabilitation ("ear training") program, in which certain skills are applied to enhance communication. The treatment for hearing loss is as individual as you are and sometimes other communication strategies may be implemented.
BINAURAL ADVANTAGE
If you have hearing loss in both ears, then two hearing aids will probably work best for you. Studies show that binaural (using both ears) hearing aid use improves speech understanding, improves understanding in background noise, provides better sound quality, and keeps both ears active to prevent further deterioration of hearing.
OTHER TYPES OF ASSISTANCE
There are also a wide variety of assistive listening devices to aid in communication such as amplified telephones, smoke or fire alarms, alarm clocks for the hearing impaired, and television devices. Tinnitus maskers are also an option for patients bothered by ringing in the ears. Severe-to-profound hearing losses or children with hearing loss may also benefit from FM systems, which greatly improve the signal-to-noise ratio (hearing speech above background noise). The first step is to schedule a consultation with the audiologist.